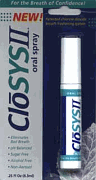 CLOSYSII Chlorine Dioxide Breath Spray
Now the same powerful odor fighting power of chlorine dioxide is available in a spray. Chlorine dioxide actually attacks the volatile sulfur compounds responsible for bad breath at the molecular level.
Convenient, pocket size spray allows you to have fresh breath any time, any place. Just spray once or twice into your mouth for hours of relief.
Now you can have clean, fresh breath wherever you go. Never be caught off guard with the yuck mouth again. You get three CloSYSII Breath Sprays for only $19.95 +S/H.
Advanced CloSYSII Chlorine Dioxide Breath Spray
Does't just cover up bad breath but actually utilizes chlorine dioxide to destroy bad breath particles.

Not available in stores

Convenient size fits in pockets, purses, and pocketbooks

Sugar free, alcohol free

Comes with 100% money back guarantee

.25 fl oz / 8.3 ml

Usually ships next business day