"When you brush too vigorously, even supposedly soft bristles can drive gums from your teeth and eventually expose roots."

Dr. Howard Glazer
President Elect of the Academy of General Dentistry

Dr. H. Douglas Hall, Assistant Professor of Periodontics, University of Oklahoma College of Dentistry
Every morning you brush your teeth in order to keep them healthy and cavity free. But did you know that you could actually be ruining your teeth and gums in the process ? Two out of three people apply too much pressure when brushing their teeth. This overzealous brushing actually destroys gums by driving gum tissue away from teeth.

Like the pounding of the tide which slowly erodes a beach, your overzealous brushing slowing erodes away gum tissue causing the gum line to recede. Because of its limited capacity to regenerate, gum tissue lost as a result of overzealous brushing is lost forever.
When gum recession is especially severe, dentists often must perform a costly operation in which gum tissue from other parts of the mouth are grafted into the area of severe gum recession.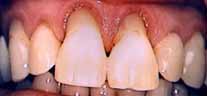 When gums recede they reveal underlying tooth surfaces. This creates the unsightly illusion in which teeth look as if they are abnormally elongated. For many, this illusion destroys the smile they fought so hard to create.
In addition to creating these ugly cosmetic appearances, gum recession is the primary cause of sensitive teeth and adulthood cavities. In the United States alone, nearly 40 million Americans suffer from sensitive teeth preventing them from enjoying the foods they love. The incidence of adulthood cavities in the elderly population has reached epidemic proportions.
The Alert toothbrush was designed to prevent gum recession. It allows you to monitor and control your brushing pressure. When you see the warning light simply ease up on your brushing pressure and rest assured that your teeth and gums will be protected. Don't delay try the Alert toothbrush today .