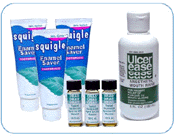 Canker Sore Buster Kit
A powerful system containing three of the most successful canker sore products
Say Goodbye to Canker Sores, Mouth Ulcers
Proven Canker Sore Buster Kit relieves canker sore pain, dramatically speeds healing, and prevents the occurrence of new canker sores (mouth ulcers) by up to 95%.
Canker sores (also called mouth ulcers) cause incredible pain and take a long time to heal. Finally, life changing relief is at hand. The Canker Sore Buster Kit uses three clinically proven products to stop canker sores cold.
Instantly stops pain with non-alcoholic UlcerEase mouth rinse. The very same rinse used by hospitals. No stinging, bad taste - just fast, soothing pain relief!
Dramatically speeds healing with ORA5 Liquid Band-Aid. ORA5 forms a protective covering over the tender, exposed nerve endings to stop the pain. More importantly, like a band-aid, ORA5 dramatically prevents infection and speeds healing.
Prevents new canker sores with Enamel Saver Canker Sore Toothpaste. Enamel Saver contains no sodium lauryl sulfate (SLS), an ingredient that promotes canker sores. Enamel Saver also contains a patented foaming system that actually strengthens your oral tissue, making it more resistant to canker sores. You get actual canker sore prevention when you use Enamel Saver daily.
So effective is the Buster Kit that we guaranteed canker sore relief, or your money back. But don't just take our word for it, see what actual customers have to say about the products in the Canker Sore Buster Kit.
You'll get (1) bottle of UlcerEase mouth rinse, (3) 1/8 bottles of ORA5 Liquid Band-Aid for Canker Sore Sufferers, and (3) tubes of Enamel Saver Toothpaste.
One power packed Buster Kit costs only $57.00 Save even more when you buy two kits for only $97.