"Incredibly effective tools that help you fight gum disease"
Advanced products give you an edge on gum
disease

Below we describe some incredibly effective products that anyone interested in preventing gum disease should check out.
Oral Irrigators
Hate to floss? Flossing is one of the most important things you can do to prevent gum disease. The Interplak Dental Water Jet and WaterPik Professional Irrigator make flossing easy. Instead of using messy dental floss, use either of these devices to spray a stream of water between teeth to remove food and bacteria.
Use an effective anti-bacterial mouthwash like CloSYSII with the Interplak Water Jet or WaterPik Pro for even more protection. Click here to find out more.
We still think the best value is the Braun OralB Procare / Oxyjet oral irrigator combination unit. It combines an electic toothbrush with a water jet (oral irrigator) into one convenient money-saving unit.
Procare Combination Center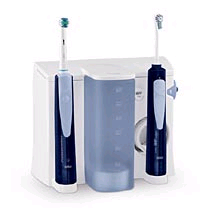 Special Anti-bacterial Mouthwashes
CloSYSII mouthwash is a revolutionary new mouthwash containing chlorine dioxide. Chlorine dioxide destroys bacteria on contact. CloSYSII is alcohol free. You can find this mouthwash in your dentist's office or order it online. Click here to find out more.
Closys II Chlorine Dioxide Mouthrinse


Premium Electric Toothbrushes
Braun Procare and HydraUltra Toothbrushes
Certain electric toothbrushes that reach below the gumline where bacteria hide are crucial for fighting gum disease. Most electric toothbrushes, however, DO NOT do this.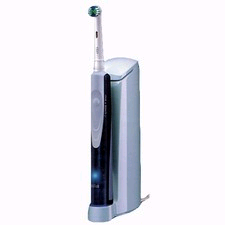 Two electric toothbrushes that are capable of reaching bacteria below the gumline are the Hydrabrush Ultra and the BRAUN ORAL-B Professional Care ELECTRIC TOOTHBRUSH. Either of these toothbrushes is an absolute must for anyone serious about healthy gums. The Hydrabrush Ultra automatically aligns 6 brusheads and 4 waterjets to provide the most effective cleaning experience we have ever experienced. All you have to do is bite down into the brushead and let the brush work, its a virtual tooth carwash! Combine this unit with a antimicrobial rinse and you have all you need to fight gum disease. The Braun Procare uses pulsating and oscillating brushhead technology to reach bacteria hiding below the gumline.
Specialty Toothpastes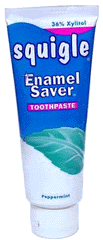 Squigle Enamel Saver Toothpaste:

Ongoing clinical studies clearly show that Enamel Saver Toothpaste prevents and fights gum disease.

Unlike other toothpastes designed to prevent gum disease, Enamel Saver does not use regular sugars or artificial ingredients such as tin salts, triclosan, and SLS. Enamel Saver is not yet widely available in stores, but your can purchase it online. Click here to find out more.




Free Info! Click Here for more information to help fight gum disease.