"By far the best pricing on the Oral-B 3D Plaque Remover. Fast shipping and no problems. I will definitely look to then again for my dental supply needs."


- Evan Tepperman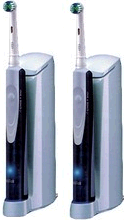 Braun OralB 3D Excel
Electric Toothbrush
Procare Model #7500
A sure grip handle with its single switch allows for ease of use with maximal control. Memory timer ensures you brush for 2 minutes, as recommended by dentists.
If you order two toothbrushes by Order By Midnight you'll receive in all:
TWO Braun 3D Excel Plaque Removers !!!
TWO Recharger Bases
4 Extra brushheads
$10 Rebate coupon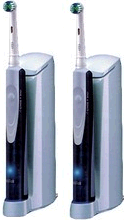 How can we make this offer when most retail stores and online stores charge between $89.95 - $119.95 for just one toothbrush?
This is a special promotional deal direct from Braun Oral-B. It allows Braun Oral-B to get this new model toothbrush into the hands of consumers, who will ultimately recommend the toothbrush to family and friends. But because it is a promotional deal quanitities are limited. We can only guarantee the bonus deal if you order by Order By Midnight
Please note that THESE ARE NOT factory reconditioned toothbrushes, but newly manufactured toothbrushes from the Braun factory. This is a Braun Oral-B promotional offer that is being offered for a limited time only. Your $10 in rebate coupon will be shipped with your Braun 3D toothbrushes.
The value packed Braun Oral-B 3D Excel Plaque Remover is a MUST buy for anyone interested in great oral health. Braun Oral-B Excel Plaque Removers are recommended by more dentists and hygienists in the world than any other power assisted brand.
Braun Oral-B 3D Excel has clinically proven to clean better than a manual toothbrush and is recommended by more dentists in the world than any other electric toothbrush.
| | |
| --- | --- |
| | As safe and gentle as a manual toothbrush. Pressure sensor automatically stops the toothbrush if too much pressure is applied making the 3D Excel safer than even manual toothbrushes. |
| | New ergonomic handle with non-slip control grip ensures optimum comfort and manueverability. |
| | With the press of a button you can choose between two speed settings according to your individual preferences. |
| | Memory timer tracks brushing time to help ensure the recommended two minutes of brushing is accomplished - even if brushing is briefly interrupted. |
Clinically proven to:
Clean better than a manual toothbrush
Improve the health of gums by reversing gingivitis
Prevent build-up of stains
Help prevent gum disease, the leading cause of tooth loss
Help prevent the build-up of tartar
Be gentle on teeth and gums as a soft manual toothbrush
The Braun Oral-B 3D Deluxe Electric Toothbrush - recommended by dentists worldwide. Cleans so deep, your teeth feel dentist clean.
We have this model on sale for 2 for $130, and if you order by Order By Midnight you receive: 4 extra brushheads AND a $10 rebate coupon. You'll get two toothbrushes for $130.00 ($120.00 after rebate)!
We charge a flat $3.95 shipping and handling rate for U.S. orders, this covers all the products in your order.
100% Money Back Guarantee if you are not completely
satisfied with the results you get with the Braun 3D Excel Plaque Remover..

We Respect Your Privacy: We do not give, share, rent, or sell names, addresses, phone numbers, and/or e-mail addresses to any other businesses, companies, or mailing lists.